By Devlin Barrett
When Leona Helmsley left her dog Trouble a $12 million trust fund, she probably wasn't worried about the tax bite. But as Congress argues about who should receive an extension of the Bush-era tax cuts, Trouble's name and tax status are being tossed around on the House floor.
Queens Rep. Joseph Crowley, a Democrat, took to the floor Thursday to accuse the Republicans of trying to protect millionaires — like Trouble — rather than the middle class.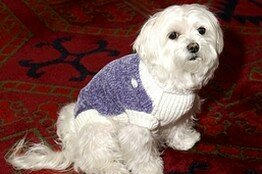 Leona Helmsley's $12 million dog, Trouble (AP)
"Under the Republican plan, if Trouble doesn't get a tax break, nobody else does," Crowley complained, standing next to a giant poster photo of the dog. "They'll protect this little dog but they won't protect the middle class of this country."
Helmsley died in 2007 and her will left $12 million for Trouble, a female white Maltese who once appeared in ads for Helmsley Hotels. The dog's inheritance was later reduced to $2 million by a Manhattan judge in 2008, at the request of Trouble's trustees. (The remainder went to charity.)
Republicans want to extend the tax cuts for every income range and argue that to do otherwise will hurt the already-struggling economy. Democrats disagree on some of the particulars and want to extend the tax cuts only for those earning $250,000 or less.
The House is expected to vote later Thursday on the Democrats' tax legislation.