By Heather Senison
On Friday, August 12, Congressman Joseph Crowley held a back to school drive at P.S.53 in Maspeth, where he handed out notebooks, folders, pens and other school supplies to students in the summer camp program there.

The camp is funded by the Out of School Time program (OST), under the city Department of Youth and Community Development (DYCD), and is run by Maspeth Town Hall, which partners with Crowley.

The camp runs in four schools in Queens, and turns into an afterschool program during the school year. The program, which is in its eighth year, has 125 kids at P.S. 153 this year, from first through fifth grades, ages six to 11.

Crowley visited the campers at their activities in different classrooms, including the book club, ping pong, and dance class, where he danced along with the girls.

In one classroom, Crowley asked the kids "Who's the president?" to which they replied "Barack Obama."

One little boy was drawing a picture of the World Trade Center towers during book club. Crowley said he used to work there, and the kids asked if he got burned when they were attacked on September 11, 2001.

He said no, but that he lost a cousin and some friends in the attack.

The camp is usually at P.S. 12, but that school was closed this summer, so it is being held at P.S. 153, Maspeth Elementary School, located at 60-62 60th Lane in Maspeth.

Maspeth Town Hall Executive Director Eileen Reilly said the OST grant that funds the camp expires in June 2012 and that a request for proposals (RFP) has to be filed in October for the program to continue.

"There's a lot of families that are touched by these programs," Reilly said.

She said the afterschool program focuses mainly on homework help, which really benefits the students.

"The children want that so they can be prepared," Reilly said. "If you feel good about yourself then you just do good [work]."

The summer camp provides kids with computer classes, along with cultural and art programs. They take class trips; for example they went to a Mets game and to a bowling alley, and the campers also learn basic finances, such as saving money and budgeting.

"A lot of these kids would be latchkey especially if parents don't speak English," she said.

Crowley said although he hopes the OST funding doesn't get cut, "my concern is that when times get hard and budgets get tight, some of the first things to go are the summer and year-round programs that are enrichment programs."

In addition to submitting an RFP, Crowley said he and the Maspeth Town Hall intend to write letters to the DYCD, the city council and the mayor's office.

One of the reasons why he held the back-to-school drive was to let the public know that this program exists and is serving a vital purpose for the community's children, he said.

The event was "not only for the children and their enrichment, but to let parents know that when they're working, especially during the summer months, that their children are in a productive environment," he said, "and they're in a safe environment."

"That's what this program provides," Crowley said.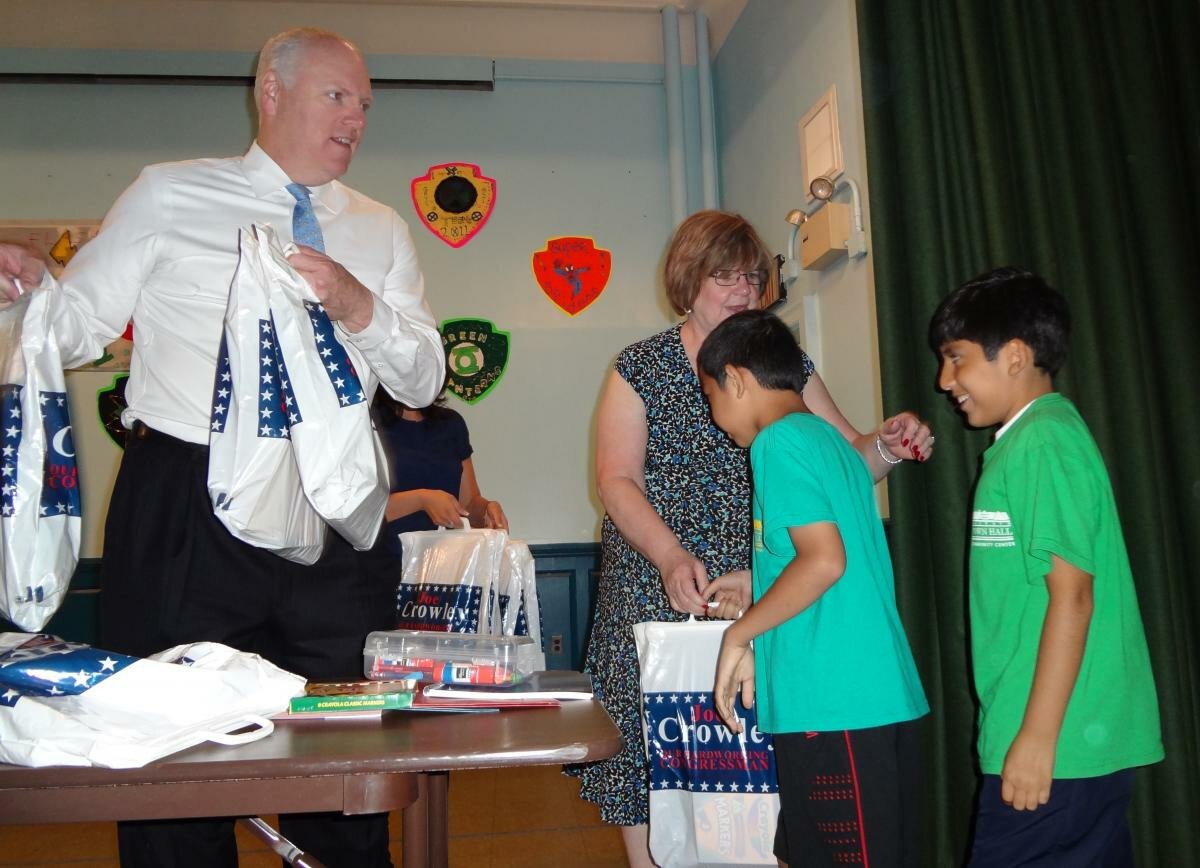 Congressman Crowley and Eileen Reilly, Director of Maspeth Town Hall, hand out school supplies at a back to school drive