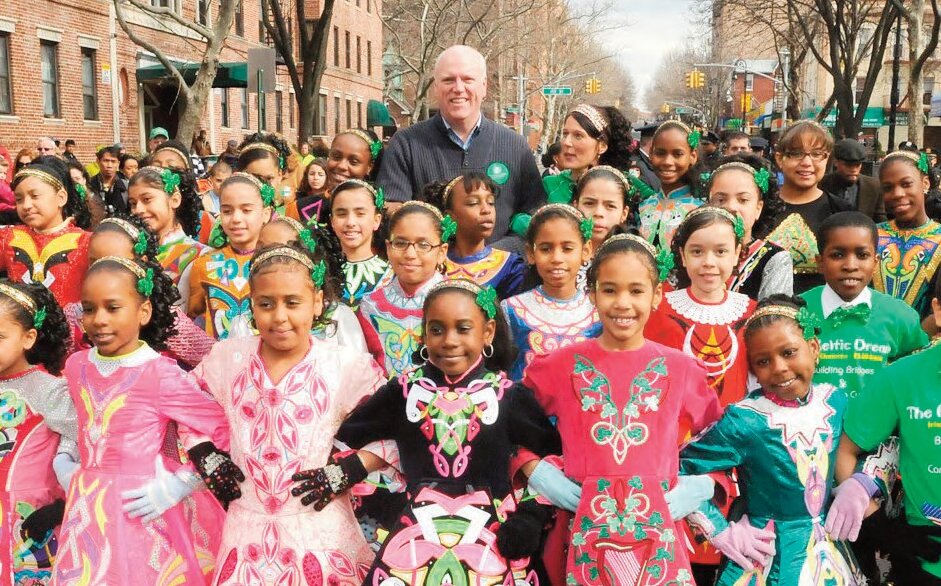 Congressmember Joe Crowley marched with hundreds of area residents in the 13th St. Pat's For All Parade in Sunnyside and Woodside. Photo Walter Karling, Queens Gazette.
The 13th St. Pat's For All Parade in Sunnyside and Woodside, shortened by seven to eight blocks for the second consecutive year, was held on Sunday, March 4, a day of cool temperatures and overcast skies. Skillman Avenue between 47th and 56th Streets had to be cleared of parked vehicles well before the parade was scheduled to begin. Many car owners appeared to be unaware that the parade was being held and a number of vehicles were towed to the police pound in College Point between 9 a.m. and noon.
Shortly before stepping-off time at about 2 p.m., marchers began to assemble at 47th Street and Skillman. Brendan Fay, who founded the parade, opened the ceremonies as he has done every year since the first such event in 2000. Sean Cahill, an HIV-AIDS researcher at The Fenway
Mayor Michael R. Bloomberg made a quick appearance, as did City Comptroller John Liu, Congressmember Joe Crowley, state Senator Michael Gianaris, Assemblymember Michael DenDekker, Councilmembers Elizabeth Crowley, Letitia James and Karen Koslowitz. Councilmember Jimmy Van Bramer proclaimed he was proud to be Irish-American, a gay man and a marcher in this parade. The politicians were soon marching, accompanied by familiar participants Keltic Dreams Irish Dancers from P.S. 59 in The Bronx and Brian Fleming's Band and new participants—five persons on stilts, three of them from Shawn Slavin's Swim Strong group. Spectators lined Skillman, including more delighted children than at previous events. The parade came to a close at Sohncke Square, where Roosevelt and Woodside Avenues and 58th Street converge. In keeping with the shortened line of march, the parade did not cross Roosevelt Avenue.