The New York Botanical Garden celebrated the opening of a green "intermodal" transportation facility, a parking garage that promises to provide ample parking for the garden.
The garage, located at 401 Bedford Park Boulevard, next to Webster Avenue and the Metro North line, sits on one acre and contains 825 parking spaces and was open to the public on Sunday, April 1.
In a gala celebration of the completion of the garage on Friday, March 30, NYBG president and CEO Gregory Long said that the project will allow for expansion of programming at the garden, which is jammed packed with cars on many Sundays.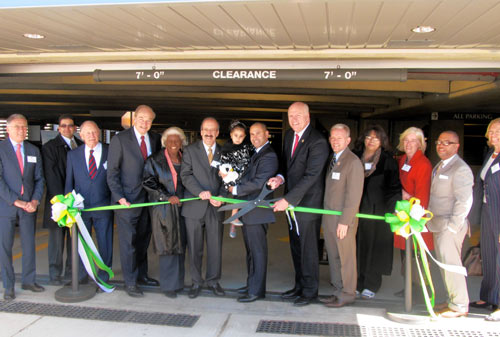 Caption: Congressman Crowley and elected officials at the NYBG ribbon cutting ceremony
The project, which contains unique features that make it a "green" facility, is one of many NYBG initiatives that are part of 30-year capital program that was begun in 1992 and will continue until 2022, Long said.
"This parking garage is a welcome addition to the New York Botanical Garden and the surrounding neighborhood," Long said. "It's an attractive building that will enable us to accommodate garden visitors as well as commuters, community residents, and local businesses. With its parking for electric cars, spaces for bicycles, and exterior vertical gardens, the garage is in several ways green, and an aesthetically pleasing complement to our museum of plants."
The garage will serve as an inter-modal facility, that will connect to three different sources of transportation: rail, cars and buses, said NYBG vice-president Frank Genese. This makes it eligible for federal funding, said Congressman Joseph Crowley at the dedication ceremony.
While he was a growing up in the borough, Congressman Eliot Engel said that the New York Botanical Garden, which he always referred to as the Bronx Botanical Garden, was one of several great cultural institutions, along with the Bronx Zoo, that he would always go to with his family.
Deputy Borough President Aurelia Greene called the NYBG's new facility a symbol or sign that the Bronx is back and economically sound.
"This is another facility that shows that the Bronx is not just coming back, but is already back because we have been investing in projects like this," Greene said.
The location of the garage was the former site of Atlas Welding, and the NYBG had been pending a parking garage for its grounds for about 10 years before demolishing the former industrial buildings in 2009, and starting construction in September 2010. Susan Rodriguez, a partner in Enead Architects, designed the parking garage.
"With the garage project, the garden really wanted to make a statement to the community about extending the garden into the community," Rodriguez stated, noting that the sides of the building will be surronded by vertical plantings which have yet to fully grow.
Manhattan Parking Group is contracted to run the garage on behalf of the garden, and as of its opening date, seven people were now working there, said a source.
By Patrick Rocchio, Bronx Times