Congressmember Joe Crowley, along with leaders from across New York's 7th Congressional District, celebrated Women's History Month at Dazies Restaurant in Jackson Heights. During the March 9 event, Crowley honored keynote speaker Assemblymember Catherine Nolan, Executive Director of Maspeth Town Hall Eileen Reilly, CEO of Adhikaar Luna Ranjit for their contributions to the community. Women's History Month is celebrated nationwide during the month of March and this year's theme is: "Women's Education – Women's Empowerment". A champion of women's rights in both the U.S. and abroad, Crowley has hosted an annual Women's History Month event every year since 2006.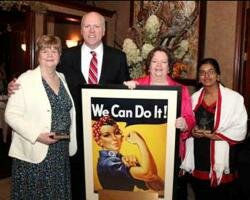 Caption: Congressman Joe Crowley and the honorees at his Women's History Month celebration, Eileen Reilly, Assemblywoman Cathy Nolan and Luna Ranjit

"Women's History Month is a time to reflect on those who stood before us fighting tirelessly for equality and justice, as well as to honor those who continue to work today to expand opportunities and rights for all," said Crowley. "Women blaze trails for the generation after them – as younger women see their predecessors succeeding, they believe that they can do it too. Our three honorees – Assemblywoman Nolan, Ms. Reilly and Ms. Ranjit – are helping to do just that in our community. Not only are they teaching the values of public service and leadership, but they are setting a positive example for young women in our community."

Since 2006, Nolan has served as the Chair of the Assembly's Committee on Education – a prestigious committee assignment that places her at the intersection of some of the most important issues facing children today. Throughout her career, Assemblywoman Nolan has devoted her energy to issues affecting women and their families. In addition to her work in the Assembly, Nolan is committed to supporting the community through her work with numerous civic associations.

"I want to thank Congressman Joseph Crowley for honoring me at his seventh annual Women's History Month," said Assemblymember Catherine Nolan. "It was such a great privilege to be recognized alongside the other honorees Eileen Reilly and Luna Ranjit, who have made such a great impact in our community."

As the Executive Director of Maspeth Town Hall, Reilly has focused on developing programs in education, recreation, the arts, and health awareness that greatly benefit the community. A lifelong resident of Queens, she is also dedicated to giving back to her community and works to ensure the best possible quality of life throughout Maspeth.

Ranjit is the co-founder and CEO of Adhikaar, a Woodside-based nonprofit working to improve the lives of the Nepali-American community. Whether it is by providing educational services, fighting against injustice, or helping those trying to make ends meet, Ranjit and her organization are making a difference in the community.