The sound of construction cranes and drills filled the air as workers were busy building the future College Point Police Academy. It provided the perfect backdrop as one lawmaker announced a plan on Thursday to keep police officers, firefighters and teachers on the job.
Rep. Joe Crowley (D-Queens, Bronx) planned to introduce the Teachers and First Responders Back to Work Act this week. The bill would provide $70 billion in federal funding to states over the next two years, aiming to save or create thousands of jobs for teachers and first responders. It reflects the approach of President Obama's larger American Jobs Act.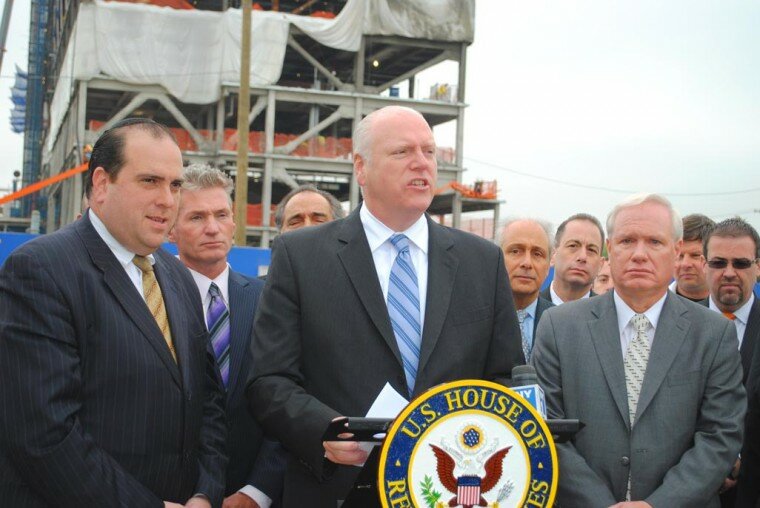 Congressman Crowley introducing a new bill to put teachers and first responders back to work. Photo by AnnMarie Costello, Queens Chronicle
And like the president, Crowley supports placing a 0.5 percent tax on people earning a $1 million or more, though he said that is not the only way his bill could be funded. Courtney Gidner, a spokeswoman for the lawmaker, said the source of the revenue would be decided later on as the bill is debated and amendments are added.
City Councilman Dan Halloran (R-Whitestone), one of only two Republican members from Queens and a candidate for a different house seat, later said that while job creation is important "throwing money at a problem" while the nation sinks deeper and deeper into debt is not going to be beneficial.
"In theory I think it's a great bill," Halloran said Tuesday. "The problem is Joe has no mechanism to fund it. We keep putting off paying what we owe until tomorrow, and we can't keep going on like that."
There is a mirror version of the bill in the Senate, which was introduced by Sen. Robert Menendez (D-New Jersey) on Oct. 17, 2011, but it was filibustered, and supporters could only get 50 votes to move it forward when 60 are required. Nevertheless, Crowley said he is confident that his bill will pass.
"We can't keep cutting back on our first responders," Crowley said. "They are the people that run into the burning buildings and apprehend violent criminals without hesitation."
Some $30 billion would be doled out in competitive grants per year to help school districts nationwide to avoid layoffs, hire new teachers and re-employ those who have been let go due to budget cuts. About $1.2 billion would go to city schools for that purpose, as well to reduce class sizes giving each student more individual attention.
Crowley said the supply of teachers is dwindling, due to attrition, and those educators are not being replaced. The result is class size swelling to 25 students in elementary grades to an average of up to 29 pupils in junior high school and high school classrooms.
The legislation also provides $5 billion in grants to support jobs for police officers, firefighters and first responders. The funds would also be used to maintain resources.
"We need to join together to make the investments in our communities and that means investments in people on the front lines of education, protecting our streets from criminals and keeping us safe from fires," Crowley said. "We are serious about improving and protecting the quality of life of our neighbors."
There are 210 firehouses in New York City and only 10,400 uniformed members of the FDNY, representing the lowest level of staffing at the Fire Department in the last 40 years, Crowley said, adding that it is a "dire situation."
The lawmaker said his bill would restore staffing to 60 fire companies that experienced reductions as of February 2011. It would provide relief to the "constantly shrinking" NYPD, Crowley said, which has nearly 7,000 fewer officers patrolling the streets than a decade ago.
The legislation is supported by the Detectives Endowment Association, Patrolmen's Benevolent Association, Uniformed Firefighters Association, United Federation of Teachers and many area lawmakers.
"This is really a huge step forward in protecting those key services that all New Yorkers and all Americans consider important — public safety, our police officers, our firefighters, and of course, educating our youth," said state Sen. Tony Avella (D-Bayside). "Without these three services, what would this country be? We wouldn't be safe, and we wouldn't be educating our future generations."
Assemblyman Mike Simanowitz (D-Flushing) said residents and unions should not have to be forced to rally and fight year after year in order to maintain essential services that should be available automatically.
Steve Cassidy, the president of the Uniformed Firefighters Association, called the legislation "critically important."
"Public safety is a not a luxury, it's a mandate," he said. "It's required, not just for the citizens of New York, it's required to make sure that tourism thrives — that's a big part of the economy."
By AnneMarie Costello, Queens Chronicle